This week we had the Annual Dementia Diaries gathering in Birmingham
It's an opportunity for some of us to meet up, some for the first time.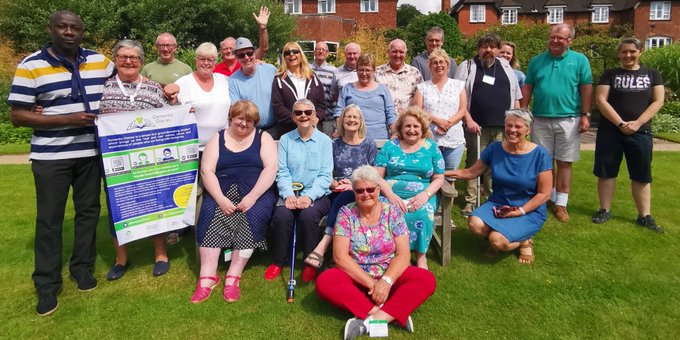 Dementia Diaries is a UK-wide project that brings together people's diverse experiences of living with dementia as a series of audio diaries. It serves as a public record and a personal archive that documents the views, reflections and day-to-day lives of people living with dementia, with the aim of prompting dialogue and changing attitudes.
The people behind Dementia Diaries take safeguarding of the Diarists seriously.
They listen to every diary before it is posted on the website and always act if they have concerns.
Who are we working with?
We are all part of the Dementia Engagement and Empowerment Project (DEEP). The Dementia Diaries initiative was designed by the non-profit communications agency On Our Radar (www.onourradar.org). It was launched by On Our Radar in January 2015 in partnership with Innovations in Dementia, Ownfone and Comic Relief, and was handed over to Innovations in Dementia in August 2016.
Phase 2 of the project is funded jointly by Comic Relief and BIG Lottery Fund.
A team from Leeds Beckett University was asked to evaluate the success of Dementia Diaries. A dementia-friendly summary of their findings is available here (pdf, opens in a new tab) or you can download the full report here (pdf, opens in a new tab).
The website provides the audio recording and a written transcript of each diary, you can volunteer to transcribe the audio diaries here
---
This weeks Diaries include:
A REMINDER ABOUT CHANGES TO BLUE BADGE ELIGIBILITY
TRACEY HAS BEEN INVITED TO SPEAK AT CONGRESS BUT CONCERNED ABOUT FUNDING AND ARRANGING EVERYTHING HERSELF
WHEN YOUR HUSBAND STARTS TO USE THE YELLOW 'I WANT TO SPEAK PLEASE' CARDS!
FRANCES IS NOT SURE IF SHE IS IN A SITUATION COMEDY OR A MEMORY CLINIC
STEPHEN AND HIS GROUP CELEBRATE THE LIFE OF HAPPY WANDERER – GEORGE
PETER TALKS ABOUT THE VALUE OF PROMPTS AND REMINDERS. ALL ABOUT ADAPTING AND CHANGING
THE HAPPY TANDEMER SHARES HER EXCITING CULTURAL AND NATURAL ADVENTURES
'WITHOUT YOU I DON'T KNOW WHAT I WOULD DO'
USE THE SPOON THEORY FOR ENERGY CONSERVATION
THE LITTLE THINGS I USE DAILY I AM FINDING I AM FORGETTING HOW TO USE THEM
THE PROS AND THE CONS OF LIVING ALONE WITH DEMENTIA
CHRIS SHARES HER STORY OF DIAGNOSIS AND FINDING HER LIFE AGAIN
LARRY'S POEM ABOUT WORRYING (OR RATHER DON'T)
JULIE FROM YODA SHARES A VERY POSITIVE RESEARCH EXPERIENCE
A GLOWING REVIEW FOR A NEW LEISURE CENTRE IN DOVER
LARRY IS REMEMBERING HIS FRIEND, SHEILA, WITH THEIR JOINTLY PENNED POEM
Come by next week to hear more
---
Note for Professionals
You can use these Diaries as part of your Dementia Training.
As a courtesy, please email Rachel Niblock at Niblock@myid.org.uk to let her know that you will be using some of the Diaries, it helps when applying for funding in the future.