The Alzheimer's Society campaign to fix Dementia was supported in the media today by Dame Barbara Windsor who is herself living with Alzheimer's.
The Alzheimer's Society states:
"Everyday we are contacted by people with dementia and their families who are struggling to access the care they need. They experience stress, anguish and exhaustion in fighting for appropriate support.
For too long the dementia care crisis has been hidden behind closed doors, lived by people who rarely have opportunities to be heard. With typical costs of dementia care at £100,000, life savings are laid to waste and family homes are eventually sold.
People like Julia who is exhausted caring for her husband, Bob, 24 hours a day. Bob wakes up at night and shouts, which keeps Julia awake – it's often loud enough to wake the neighbours too. She went six months without a break, despite requesting carer's respite.
Dementia can devastate lives. People affected are so busy coping with the condition – they shouldn't have to fight the system too. We need to see leadership to urgently address these challenges – so that care is good quality, easy to access and affordable.
We are standing with people affected by dementia by letting Boris Johnson know that the dementia care crisis cannot be ignored any longer. Will you add your name to our letter to show your support?"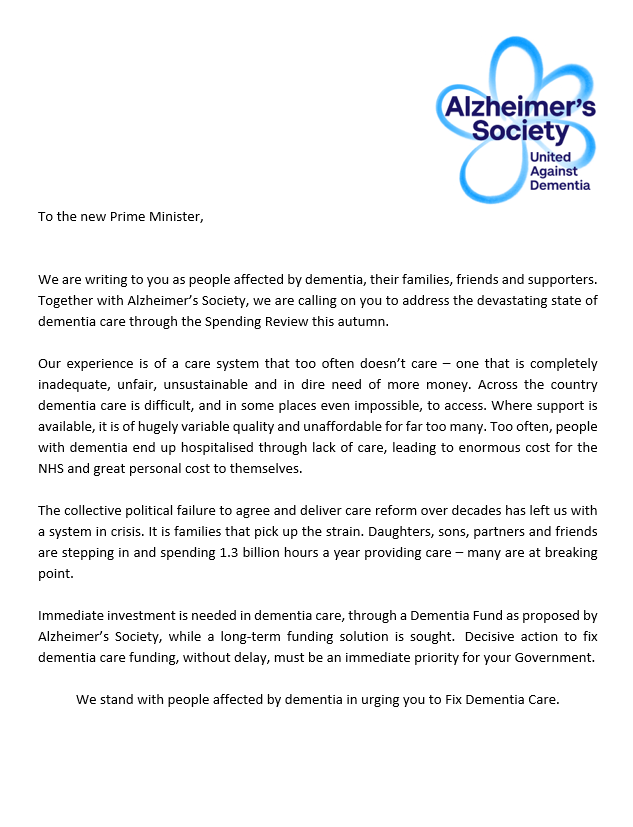 Petition now closed
After recent comments I have received, I should add that this campaign is not about giving Dementia priority over all other conditions, rather it is to end the inequality and bring Dementia up to the level of other conditions, respecting the rights of people living with Dementia, in line with International Law via the United Nations Convention on the Rights of Persons with Disabilities, Article 25