It's been a busy couple of weeks travelling and attending meetings etc, culminating in being on a panel for an Alzheimer's Disease International Webinar on Friday.
All smiles, you might say "you don't look like you have Dementia" reader, but Dementia is a hidden disability.
Behind the facade of smiles, a running battle is taking place, to participate in the webinar and to "appear normal", whatever that is, for 60 minutes.
Game of Thrones it is not, literally a fight to the death it certainly is.
A battle between a person and an insidious chronic terminal disease, compounded by comorbidities, certainly.
Made even harder by the judgement of others and the continuing abuse of our rights.
---
A couple of weeks ago, I met Rachael Maskell MP, chair of the APPG for Ageing and Older people at Portcullis House in Westminster to talk about the Alzheimer's Society proposal for a Dementia Fund.
I was one of many members of the 3 Nations Dementia Working Group, who have had the opportunity to speak to MPs about the proposal.
I would like to extend my thanks to Rachael for writing and the 68 MPs who have signed an open letter to health secretary Matt Hancock asking for people (living) with Dementia to be given personal budgets, which they can spend on care home costs or home adaptations.
MPs call for Dementia Fund to help people with dementia pay for care
The letter says 'While people with cancer (and other chronic terminal diseases) have their treatment costs covered by the NHS, those with Dementia struggle to finance the increasing costs of care as council-run social care is cut back.'
Over 60 MPs support Alzheimer's Society's call for new £2.4bn Dementia Fund
Currently, they way people living with Dementia are treated can be in breach of International Law via
The United Nations Convention on the Rights of Persons with Disabilities (CRPD)
including Article 25:
"States Parties recognize that persons with disabilities have the right to the enjoyment of the highest attainable standard of health without discrimination on the basis of disability. States Parties shall take all appropriate measures to ensure access for persons with disabilities to health services that are gender-sensitive, including health-related rehabilitation. In particular, States Parties shall:
a) Provide persons with disabilities with the same range, quality and standard of free or affordable health care and programmes as provided to other persons, including in the area of sexual and reproductive health and population-based public health programmes;
b) Provide those health services needed by persons with disabilities specifically because of their disabilities, including early identification and intervention as appropriate, and services designed to minimize and prevent further disabilities, including among children and older persons;
c) Provide these health services as close as possible to people's own communities, including in rural areas;
d) Require health professionals to provide care of the same quality to persons with disabilities as to others, including on the basis of free and informed consent by, inter alia, raising awareness of the human rights, dignity, autonomy and needs of persons with disabilities through training and the promulgation of ethical standards for public and private health care;
e) Prohibit discrimination against persons with disabilities in the provision of health insurance, and life insurance where such insurance is permitted by national law, which shall be provided in a fair and reasonable manner;
f) Prevent discriminatory denial of health care or health services or food and fluids on the basis of disability."
---
Alzheimer's Disease International also have a survey running which you may wish to take part in, especially if you are a man as by Friday, only 18% of respondents were men.
ADI wants to hear what YOU think about Dementia!
---
Nominations for the National Diversity Awards 2019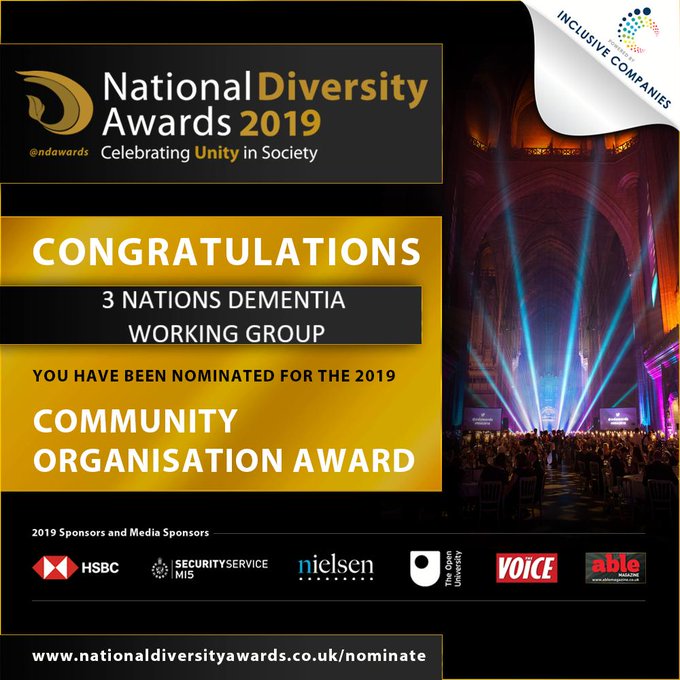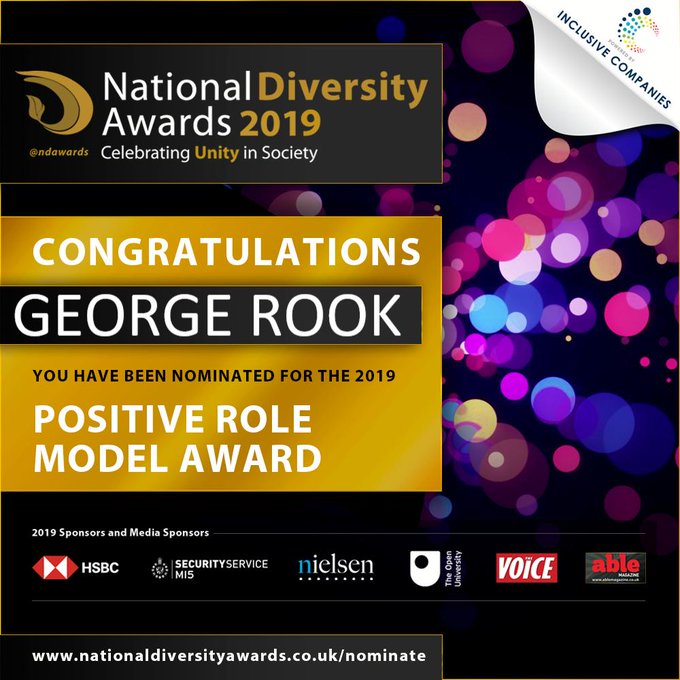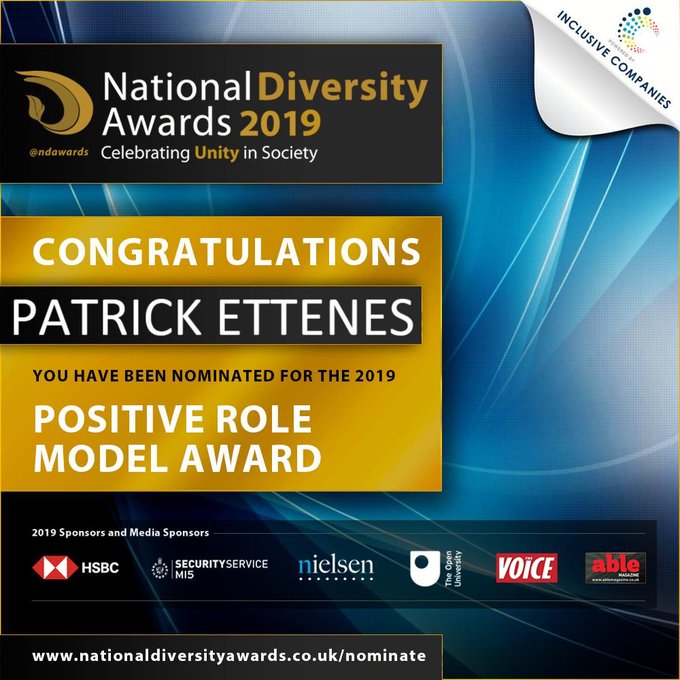 You can nominate here
---
Other Nominations
You can nominate here
---
Petitions
See dementia as a terminal illness so under 65's are instantly eligible for PIP (9 Oct 19)
Petition – The lack of provision of social care in the UK is leading to immense distress for all people affected by dementia and their care partners.
Petition – Pay Carers an allowance equivalent to a fulltime job at the National Living wage
Petition – No more PIP Assessments for People with Life Long Disability or Conditions
Justice for Jodey Whiting. Independent inquiry into deaths linked to the DWP
---
Consultations
Australian Royal Commission into Violence, Abuse, Neglect and Exploitation of People with Disability
Investigating the impact of stigma on people living with dementia and carers: A questionnaire study PART 1
General Pharmaceutical Council – Consultation on guidance for pharmacist prescribers
---
Survey
Welcome to the Dementia 2020 Citizens' Engagement Panel online Hub
Tell us your experience of living with Dementia
Sheffield CCG – Urgent Care Review 2019
---
Videos
---
Newsletters
LEAD Coalition News – April 24 2019
Young Onset Dementia Alzheimer's Group (YODA) – Newsletter No: 2
---
Blog
"Since I got back from holiday mum has been more grumpy than usual. Sometimes she feels she has been wronged, withdraws, gives monosyllabic responses and behaves a bit like a sulky teenager. Not just with me, but with special carers that she normally gets on with. Monday is a good example of life this last week."
Julia Powell's blog titled A Day in the Life of Mum, Dementia and Me
---
New Resources
Young Dementia UK – A decision-making guide for GPs
Dementia words matter: A DEEP guideline on language about dementia
---
---