A quietish week this week.
However, it's quite a packed article this week, with news raising money for Young Dementia UK, awards, videos, blogs and some petitions and consultations which I would be grateful if you would take part in and ask others to do the same.
It is important for the voice of Dementia to be heard, it is no longer a silent disease as you will see below.
I was in York on Wednesday for the Great Yorkshire DEEP gathering, where 8 or 9 DEEP groups (I cannot remember exactly how many now) from Yorkshire, Liverpool and one Hartlepool  way got together.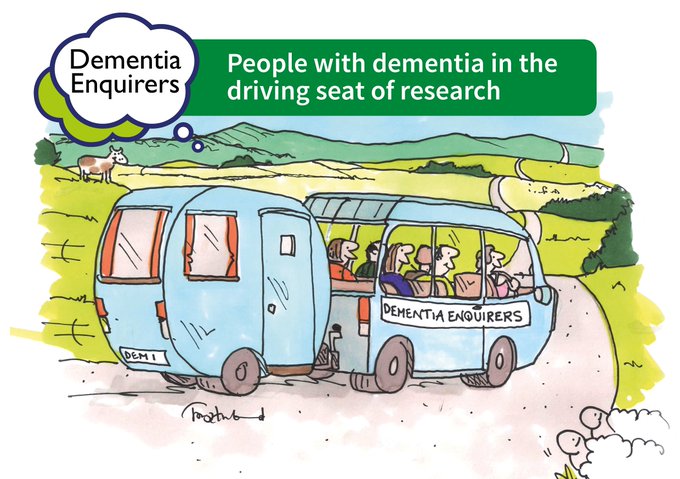 In the afternoon, Philly Hare, Wendy Mitchell and myself introduce the new DEEP initiative "Dementia Enquirers", where people living with Dementia are at the forefront of Dementia research, identifying, developing, undertaking and writing up Dementia research.
In the image, people living with Dementia are taking the lead, with researchers in the Caravan following behind.
Also on Wednesday, was the latest 3 Nations Dementia Working Group, Twitter Chat.
You can catch up on the conversation here
On Friday I was in London for the Raising quality of life in people living with dementia – MARQUE Report launch in London.
Apart from that, it has been another week of tiredness and fatigue.
---
Diwrnod Dewi Sant – St Davids Day
Friday was also St David's day, you can listen to some Dementia Diaries from some of the welsh Diarists below
---
Congratulations
Jayne Goodrick was in Downing Street this week to receive a well deserved Points of Light award from the Secretary of State for Wales.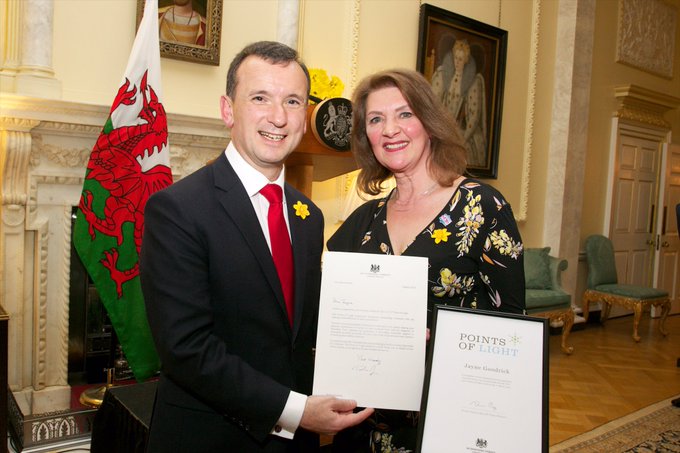 Jayne is a leading Advocate for Care Partners of and People Living with Dementia and many Dementia organisations.
---
Skydiving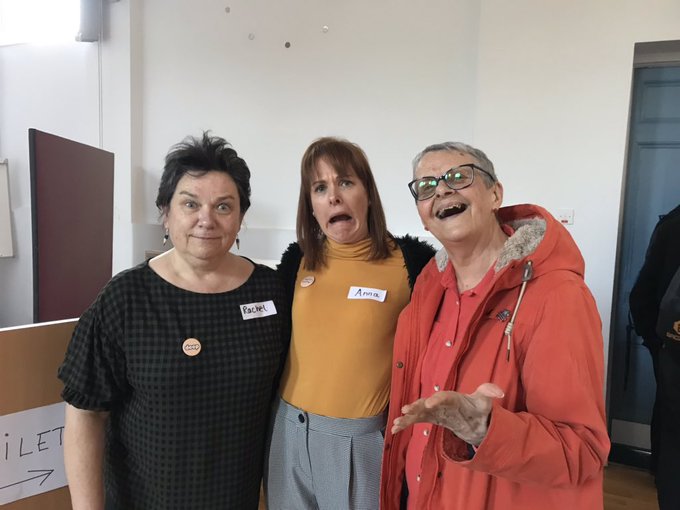 Anna Harrison, Rachel Niblock and Wendy Mitchell will be Skydiving in aid of Young Dementia UK next weekend. Details on how to sponsor them is here
---
Nominations for the National Diversity Awards 2019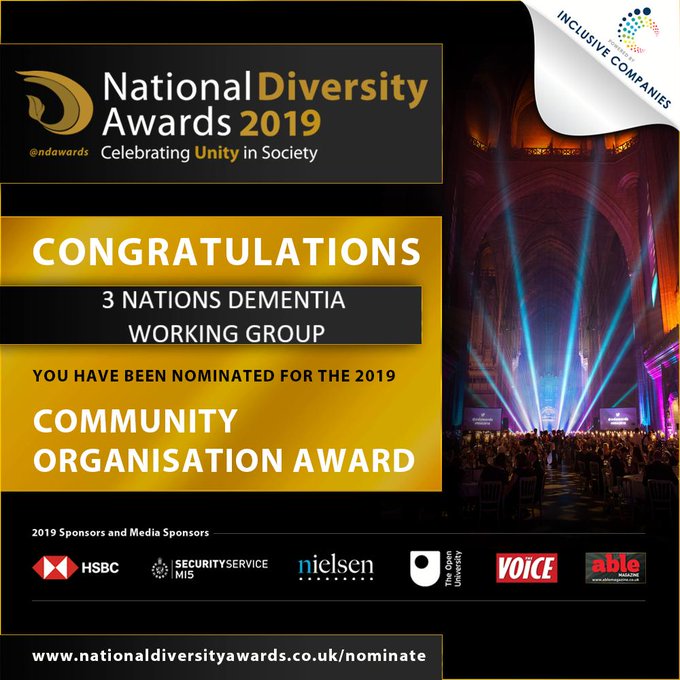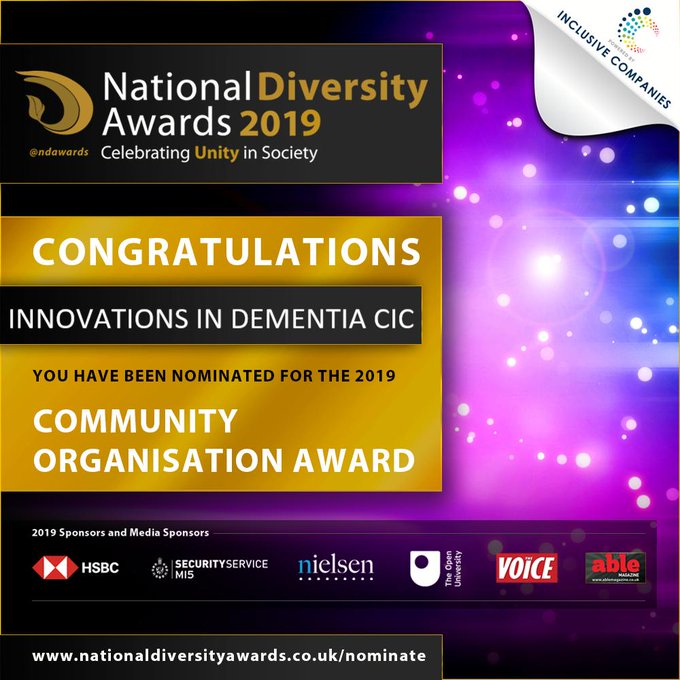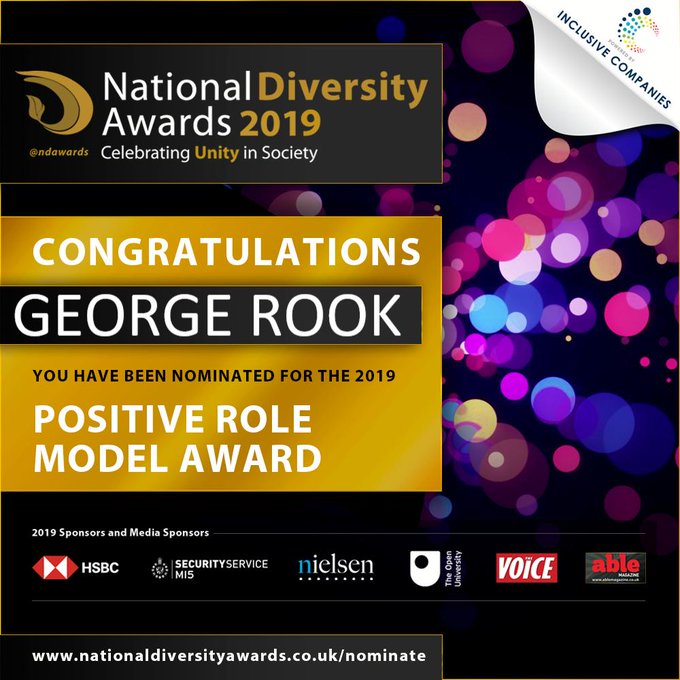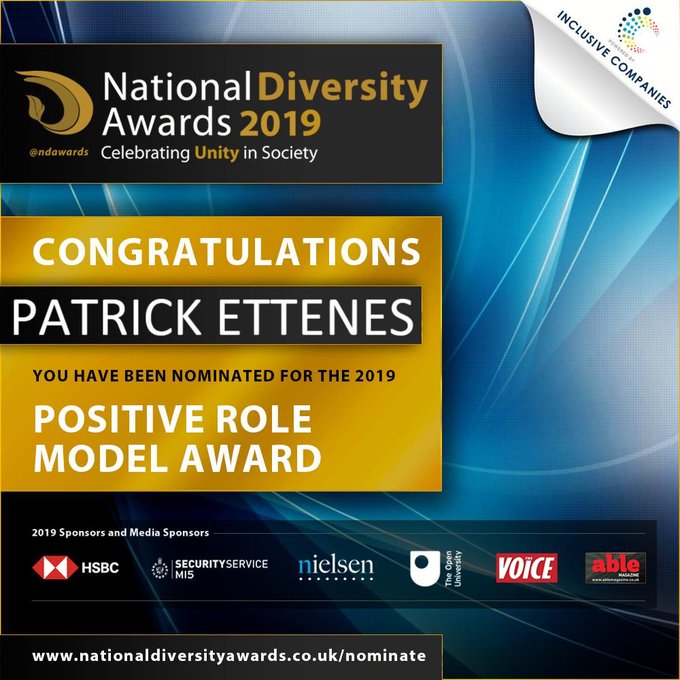 ---
Newsletter
The latest edition of the 3 Nations Dementia Working Group Newsletter is available here
LEAD Coalition News here
Alzheimer's Europe Newsletter here
---
Petitions
Petition – The lack of provision of social care in the UK is leading to immense distress for all people affected by dementia and their care partners.
Petition – Pay Carers an allowance equivalent to a fulltime job at the National Living wage
Petition – No more PIP Assessments for People with Life Long Disability or Conditions
---
Consultations
Consultation by the UK Ministry of Justice on the Mental Capacity (Amendment) Bill
Consultation – Learning disability and autism training for health and care staff
Consultation – Have Your Say on Sheffield's End of Life Care Services
---
Scotland
Occupational Therapist – Online Surgery
Date 07 Mar 2019

Location Online
If you are interested in finding out more about using your strengths and abilities to enhance your daily living or if you want more information around how to adapt to your everyday environment then all you need to do is log in to the surgery and an Occupational Therapist will be with you as soon as possible to help.
You just need internet access, Google Chrome and a laptop, smartphone or tablet.
Joining instructions:
Copy and paste the link below into your Chrome browser and ensure your camera, microphone, and speakers are on and working.
https://nhs.attendanywhere.com/service/?apikey=4132a9ab-ab7f-4507-83da-ce3981995a6e&nid=jefFx%252fj%2560
This will enter you into a Tech Surgeries Waiting Area and from here a member of our Tech Team will invite you onto a video call with the Occupational Therapist. If the Tech Team are on another call, they will call you as soon as they are finished.
If you are not able to get on to the online surgery, if you still have questions or just need to talk to someone you can contact our freephone dementia helpline on 0808 808 3000.
---
Videos
---
Blog 1
"As the disease progresses we will indeed suffer at times. We will suffer knowing that we can no longer do or say what we used to. We will need some help now and then. 
But we are still inside, so you need to make the effort to reach into our minds and our memories and meet us where we find ourselves. It may not be the world you know, but please just come with us. 
Don't tell us we are wrong. Or we shouldn't do or say this or that. Just come with us into our reality as we recede from yours.
The end is far off; the disease usually takes many years to debilitate us. Help us to do what makes us smile while we can, rather than slinking off into a dark corner to be forgotten. There are times for all of us when things get too much and the fog descends. 
Don't ignore us when that happens. Just reach out and hold our hand and listen.."
George Rook's blog titled Dementia Bereavement
---
Blog 2
"These commissioners and providers still act as Gods who believe they know what we need and decide what we can have.
It is appalling that they can ignore national models of good practice. Ignore the people who have the disease. Ignore research evidence. 
We have a disease that cannot be cured, or even slowed. The only thing that you can do for us is help us to live well while we can, to not withdraw, to be able to engage in our communities, and to do what makes us smile.
That saves you money. It makes society a better place. 
And yet too many of you remain behind your walls and take the easy way out.
Start with the patient and work backwards."
George Rook's blog titled Fake news: lies, damned lies, and statistics
---
---